Homemade Micarta Fun & Interesting
Micarta is a composite made from layers of various materials and held together by a plastic resin. The materials can be nearly anything, including cloth, paper, fiberglass or carbon fiber. "Micarta" is actually a brand, but like "Kleenex" is to facial tissue, nearly all similar examples are referred to by this name.

I've made a few knives and they are some of my more popular videos on YouTube, so I thought I would do another one. This time, more of a "real" knife – a fixed blade, hunting style knife. Like most of my other projects, this would be made from common, easy to source material.
For the blade, I want to use the thin cold chisel pictured below. It has the attractive quality of being made with very good steel, plus it is already hardened and tempered to the correct degree. On top of that, it was cheap – less than $10 when I bought it new: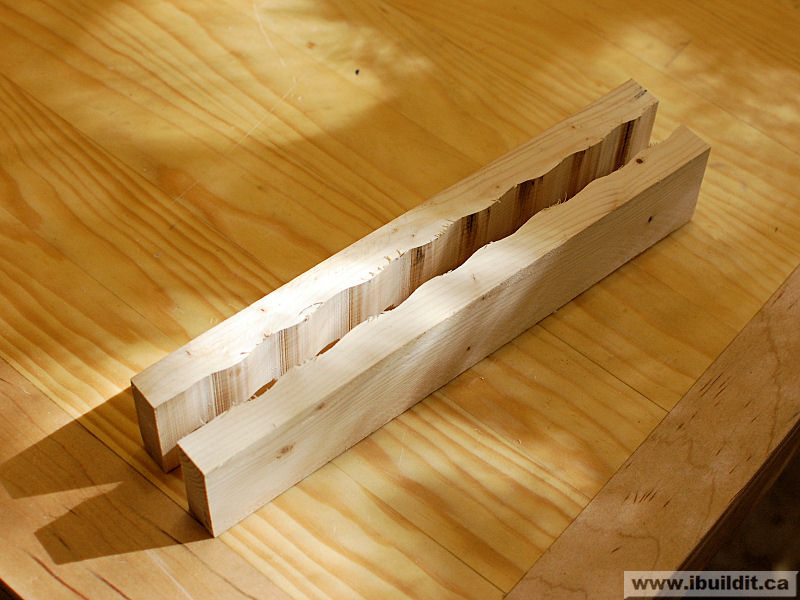 Of course, there are lots of examples of homemade Micarta to be found, and a Google search turned up some really amazing samples. What I wanted to do that is different is to press the layers of cloth into a convoluted shape with a wooden form. This will give the material a wavy "grain", similar to figured wood (curly maple comes to mind). When using flat Micarta, you would have to shape the handle excessively to expose the grain layers (if maximum visual effect is important), which may not be best for a comfortable grip. By introducing the wavy grain, the handle can be kept relatively flat and smooth, but still highlight the grain layers of the Micarta.
The form I made is from a piece of spruce about 2″ wide, and I freehand cut it out on my band saw.
I hunted through my old clothes and found a work shirt and pair of coveralls that were no longer being used, and cut them up into strips just slightly bigger than the form:
The darker fabric is from the work shirt, and is a fairly thin and tightly woven polyester / cotton blend. The tan is from the coveralls, 100% cotton duck and much thicker: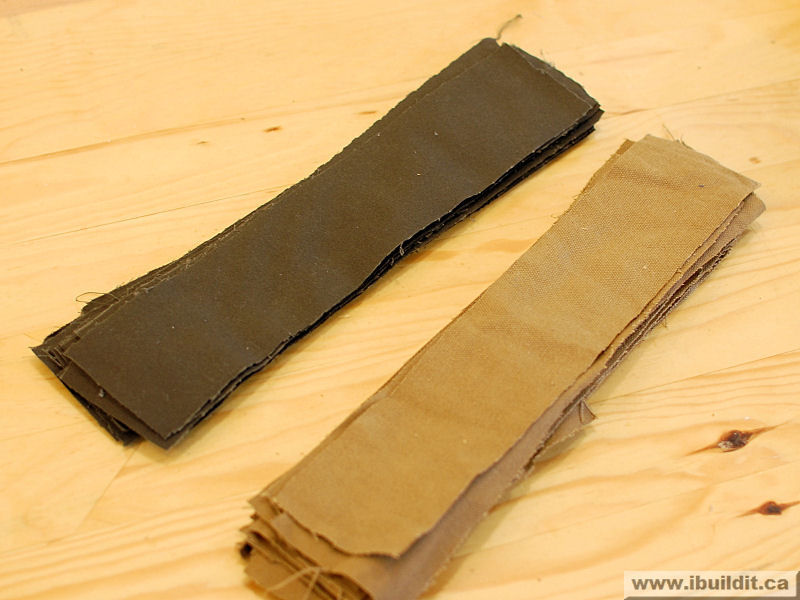 Since I've never done this before, I had to try to figure out how many layers I would need to get a usably thick piece after it was cut out of the form. I kept adding layers and clamping it up tight until I was reasonably certain it was thick enough.
Complicating the matter was the wave, which I would have to account for. If I want end up with a piece that is 1/4″ thick, I would need to make the layers 1/2″ thick in the form, since I would lose 1/8″ on each side because of the wave. Just to be on the safe side, I decided to make it thicker than I needed, and ended up using all 36 layers of cloth.
To glue the layers, I chose epoxy, thinking it would be harder, more water resistant and more durable than the polyester resin that most guys use. To build the layers, I only saturated the dark cloth, and left the tan, thicker fabric dry. The idea was that there should be enough glue in the thinner one to saturate the thicker one, once they are all clamped up in the form. Luckily, this turned out to be true: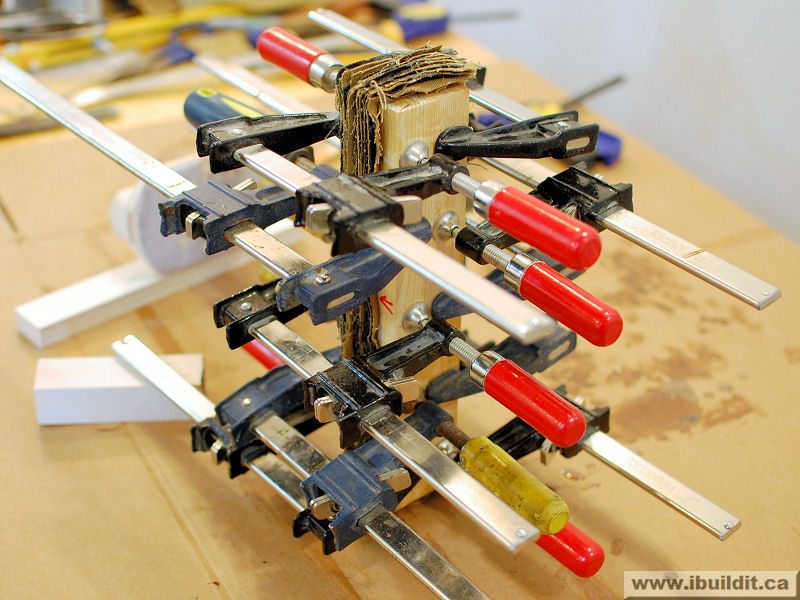 I got as many clamps on as I could to apply as much pressure as possible. C-clamps would have been able to exert more force, but I don't have enough of those, and I'm not sure that it would have made a significant difference.
When all of the clamps were on and tightened, I stood it on end to keep the glue that was squeezing out off my clamps. I then left it to dry overnight.
The next day I could cut it open to have a look. Cutting the ends off revealed a very tight, well defined grain: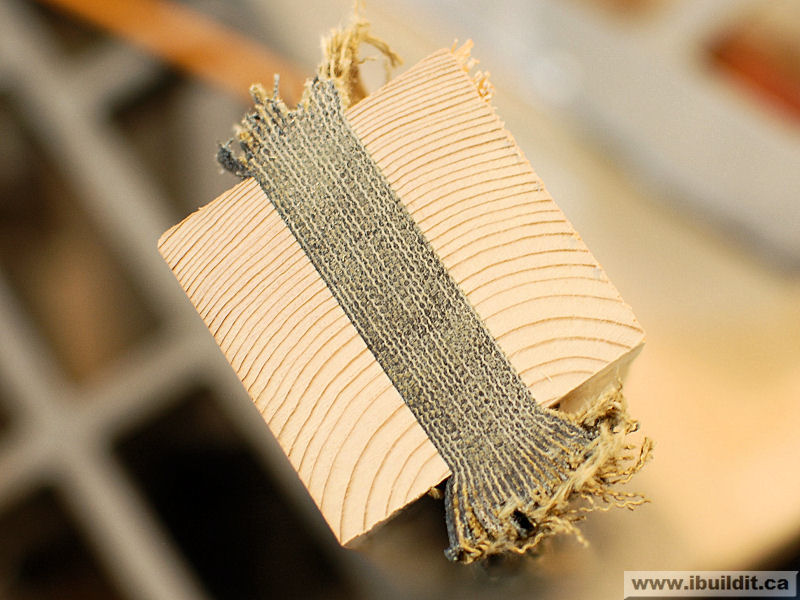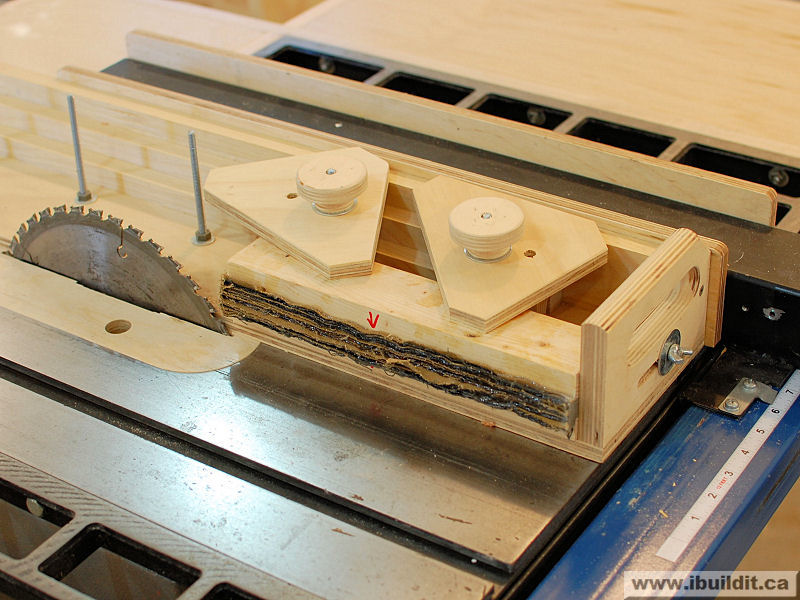 To cut it safely on the table saw, I clamped it in my tapering jig. With that one edge cut, I could put the jig aside and just use the fence on my saw to make the rest of the cuts.
The first "face" cut and the pattern looks pretty good!: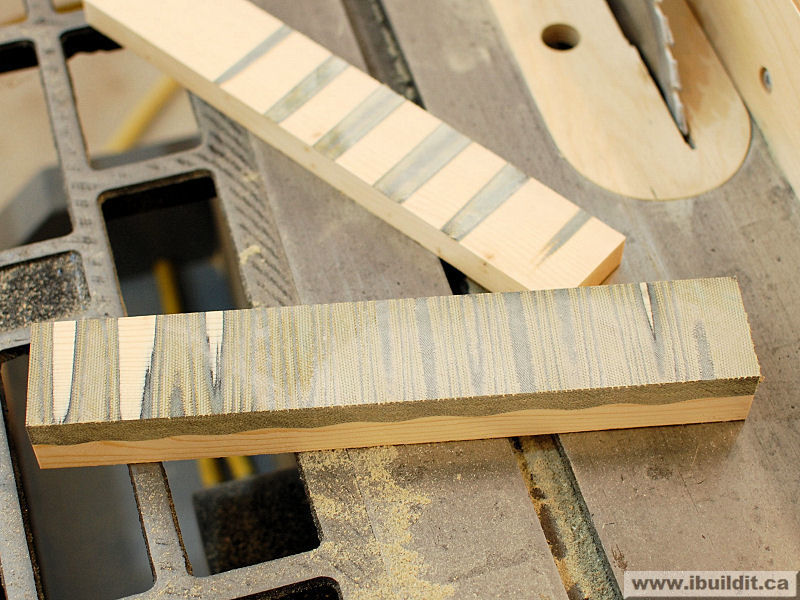 I did a little sanding on it and gave it a coat of clear finish to accentuate the pattern:
Very neat looking, and an extremely tough material – should be perfect for the handle of a knife. Oddly enough, even with all of the epoxy used and with the the clear finish applied, this does not feel like plastic. It actually feels a lot like wood, and warms up in your hand very quickly. It's no wonder it is a much desired handle material.
Here's a detailed video showing how I made the Micarta from beginning to end:
Shortly after cutting it out, I took a better look and realized that it would be interesting to leave the wood that is in the waves. If you made the form with a good quality wood, such as walnut, it would make for a very attractive handle material. Micarta with real wood inlay.
Of course, as soon as it occurred to me, I just had to try it out. Looking around in my wood pile, I found a really nice piece of curly maple:
My original wave pattern turned out to be nearly impossible to cut out with my 3/8″ band saw blade without burning the wood, so I redrew the wave at a lower frequency.
This was easy to cut and I also smoothed the cut out a little on the spindle sander:
Back to the closet again, this time for a pair of cotton tee shirts, one yellow and one black. This fabric is thinner than the previous ones, but I would be making the total thickness thinner on this one.
This time around, I had a better idea of how many layers I would need. I still cut out and used 16 layers of each colour. It took a lot less glue this time, which is good, since the epoxy is quite expensive: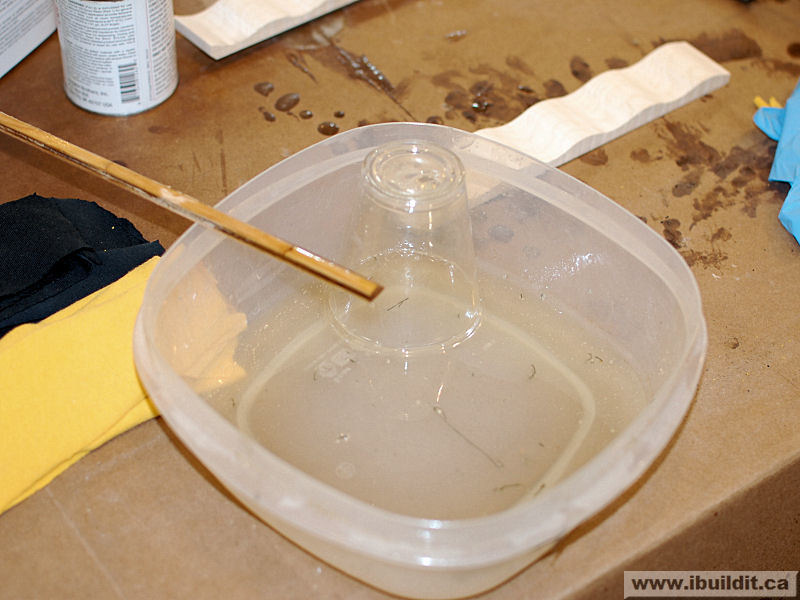 Once again, as many clamps as I could fit and as tight as I could make them: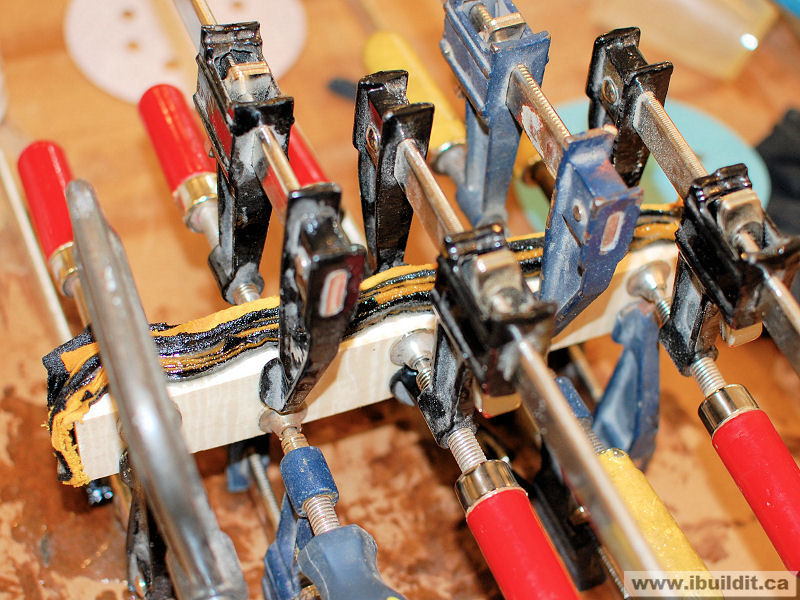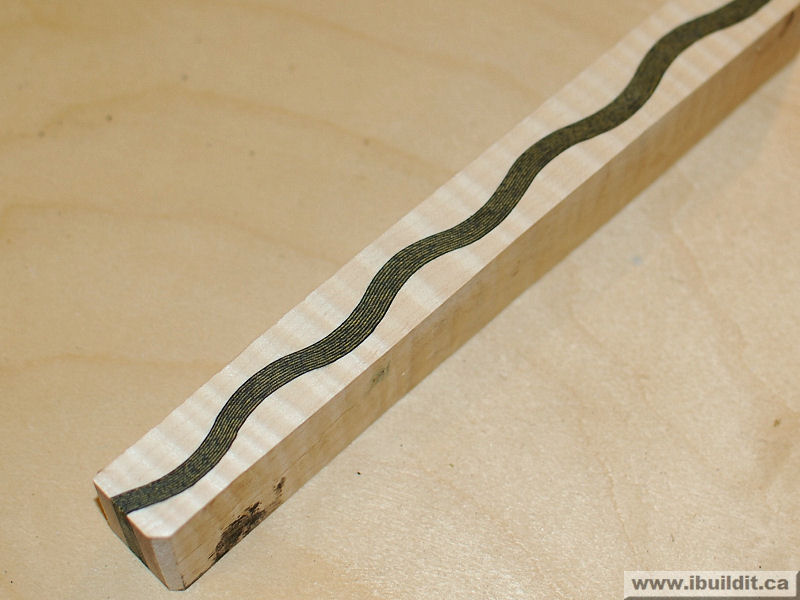 The next day I could cut it out and inspect the results.
This is actually a lot better than I expected!
Some sanding to round the edge and get it ready for a coat of clear finish:
I have to say that I'm very pleased with how they both turned out, and would like to make a few more pieces to try out some other ideas I have. But first, I need to get that knife started, now that I have a very excellent block of Micarta to use as the handle.