Blog: Abandoned Places – Boyne River Natural Science School By: John Heisz
Around this time last year, my brother Don and I went out for a day to find interesting things to take pictures of. We primarily had barns that are falling down or old abandoned houses in mind, but anything that caught our eye would qualify.
We left his house at 8am and took a more or less random drive through the countryside, with no real route mapped out. We figured that if we kept to the side roads, eventually we'd see something. As it turned out, we found quite a number of interesting locations, all within a fairly small area.
In this entry I will concentrate on what was probably the most intriguing place of the day. As we were driving south on Prince of Wales Road just north of highway 89, I spotted what looked like a cabin from the road above: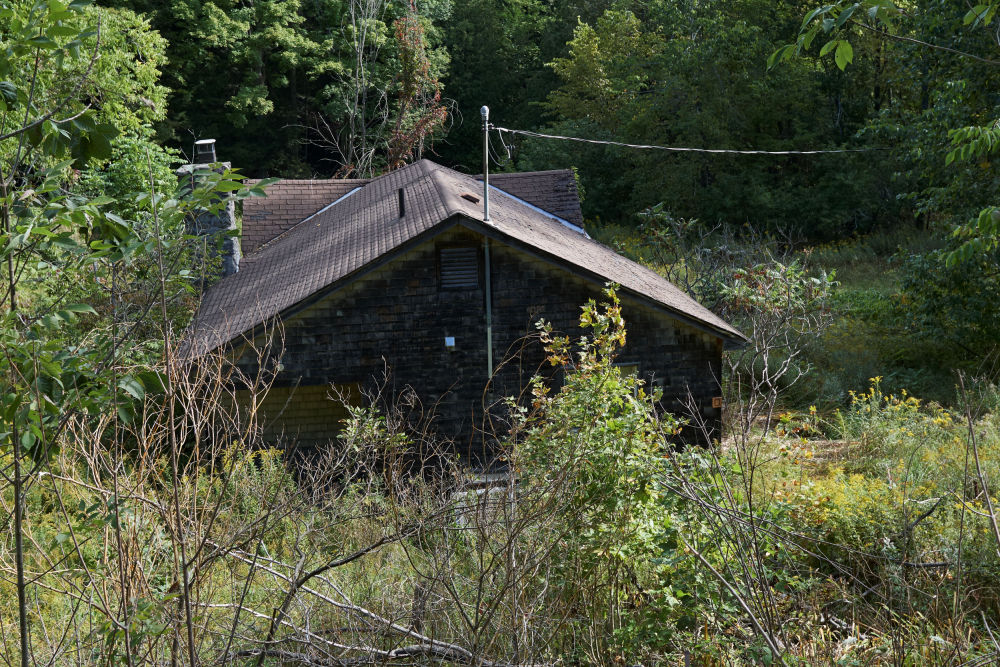 I pulled over and parked on the shoulder for a better look. Since the place looked abandoned and we couldn't see a driveway to get there, we decided to climb down the bank to snoop around.
From the front, the usual overgrowth where nature is leisurely undoing the work that man did. It appeared to be a cottage that was possibly part of a larger complex, since it had a sign with the letter "G" on it. Like this was cabin G, just down from cabin F:
It had an open porch so I stepped inside. The large front window was broken: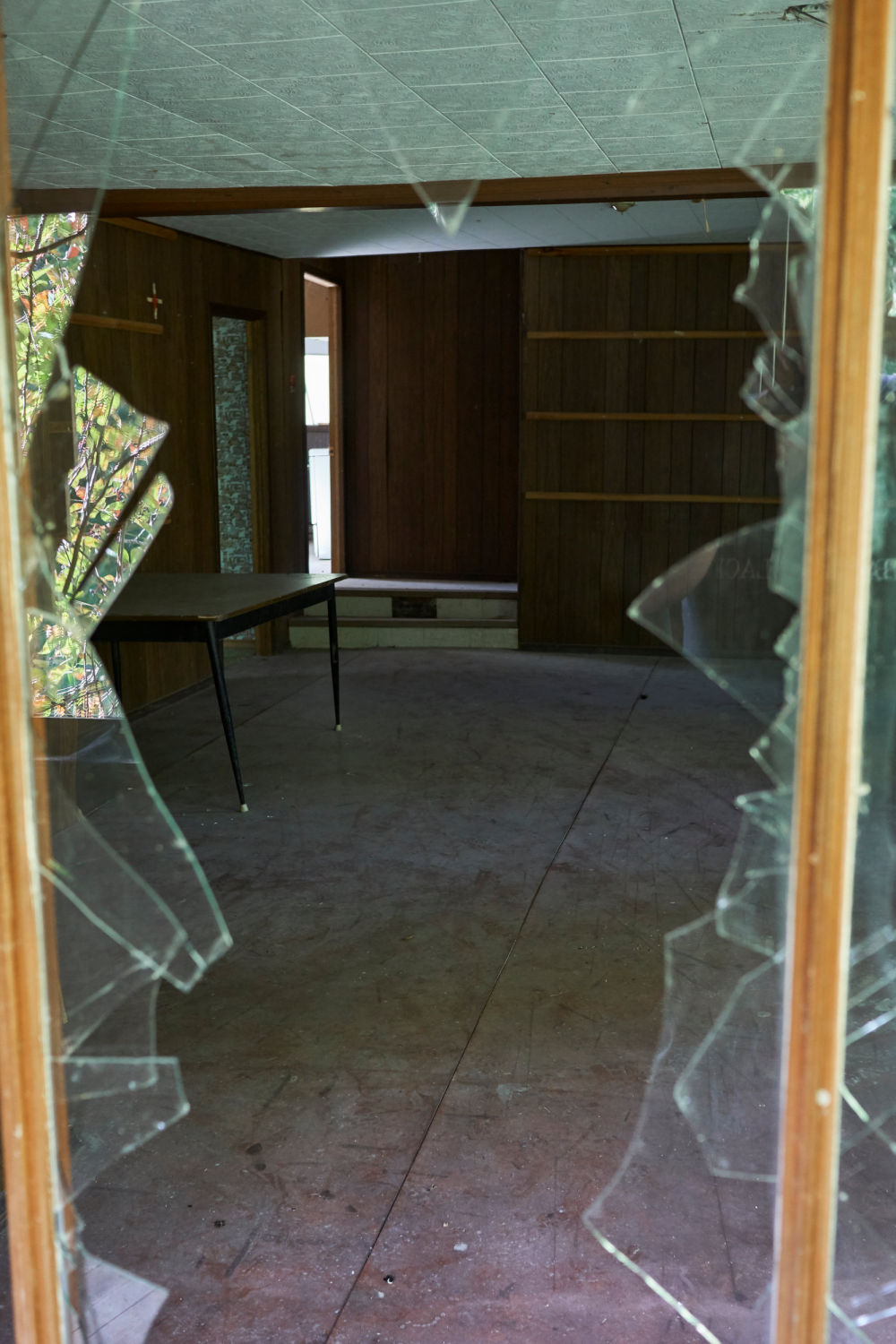 The front door was still intact, but partly ajar. Probably jammed in that position from shifts in the building's foundation: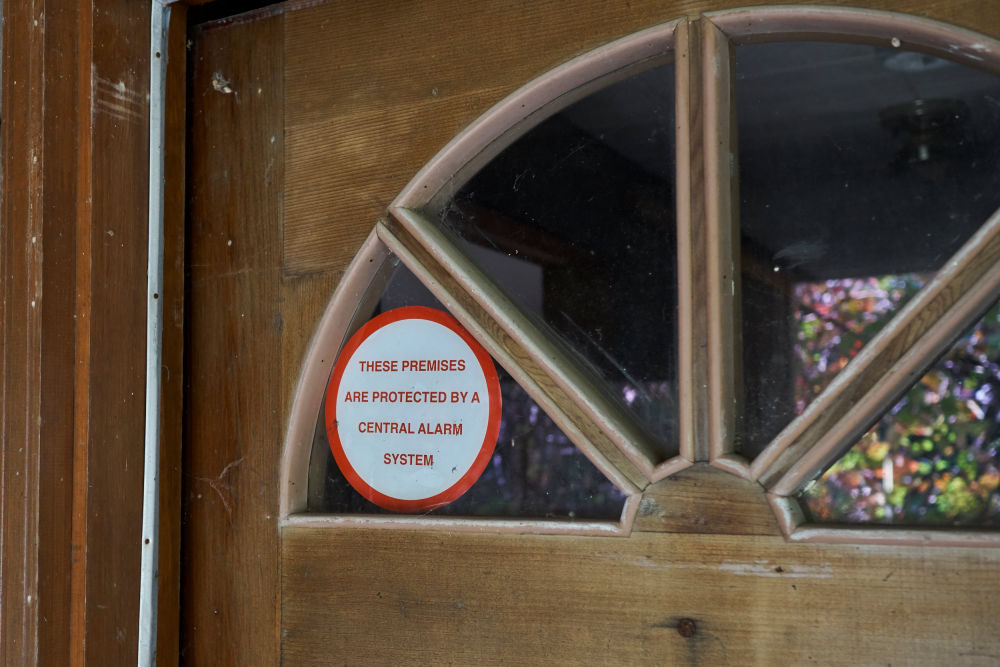 Not sure if this sign was original:
Seeing how the front window was wide open, I stepped inside for a look around. The place, other than the broken window and some minor graffiti, was remarkably clean and not vandalized. Even this hand drawn display was untouched:
This one hasn't fared as well:
Dominating the largest room was this rough looking stone fireplace:
Ceiling and floor damage are obvious here. The floor was very uneven and springy in places.
Leading away from this cabin was a dirt road that has started to overgrow and we followed that up to what looked like the next cabin.
There were buildings in various stages of decay scattered all over, and according to this video, we passed what used to be the woodshop. I didn't get a picture of that though, since it was in much better shape than the rest of the wooden structures.
An old picnic table and benches, and the remains of a fire pit nearby. These are close to what turned out to be the Boyne river.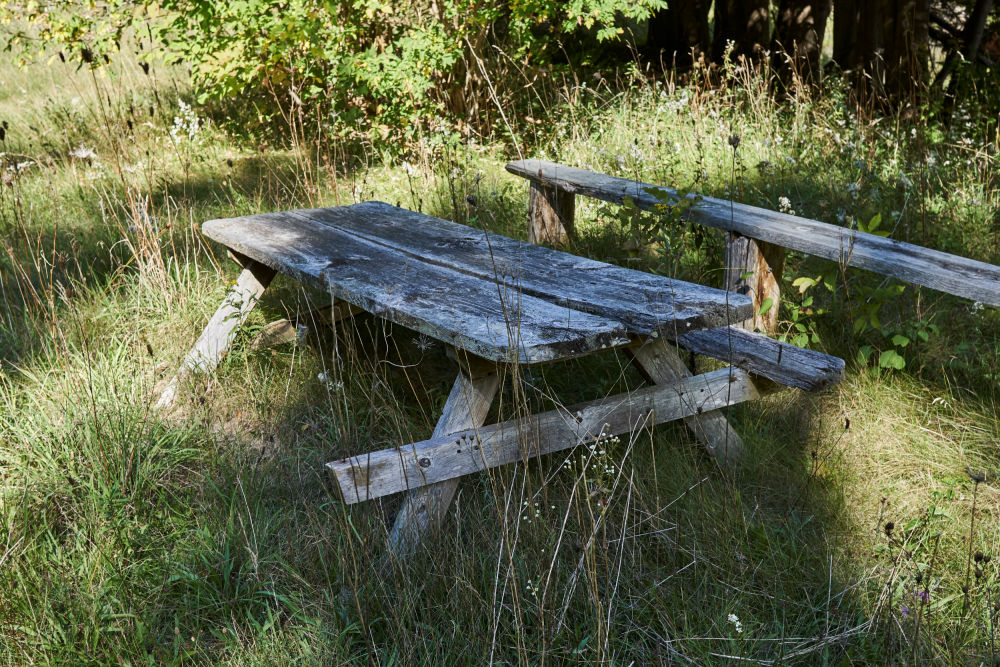 Of course, we didn't know that at the time. We were, after all, just randomly driving through an area neither of us had been to before and we had no idea that this place existed.
Here's Don taking a picture at the water's edge:
Getting this shot: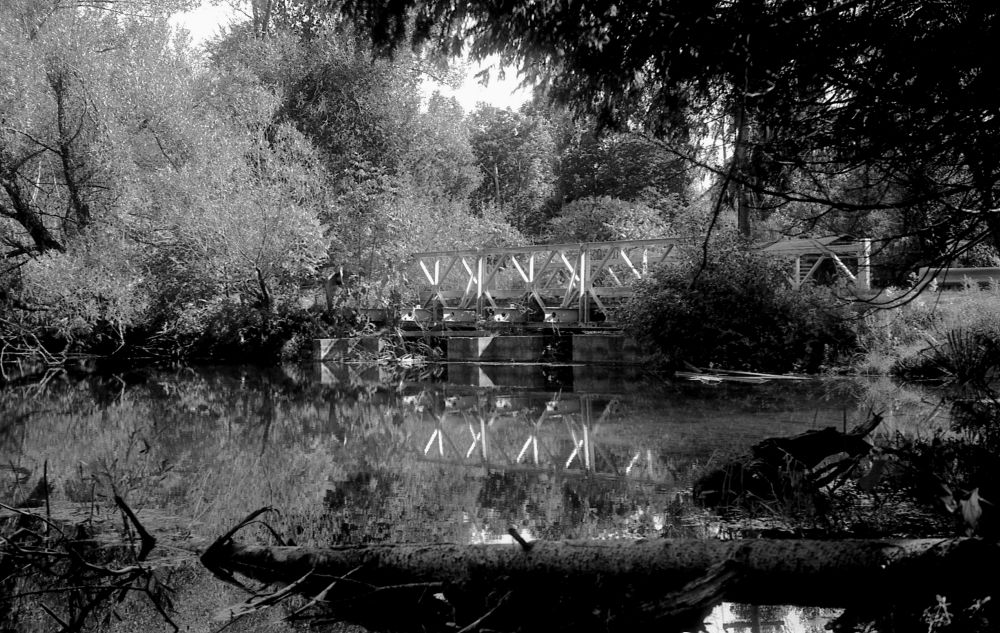 Don uses vintage film cameras and usually uses black and white film.
I got this one:
And this:
The water was incredibly still and reflective.
From above the dam that creates this pond:
Below the dam. There is a spillway, but the water level was too low for a good waterfall: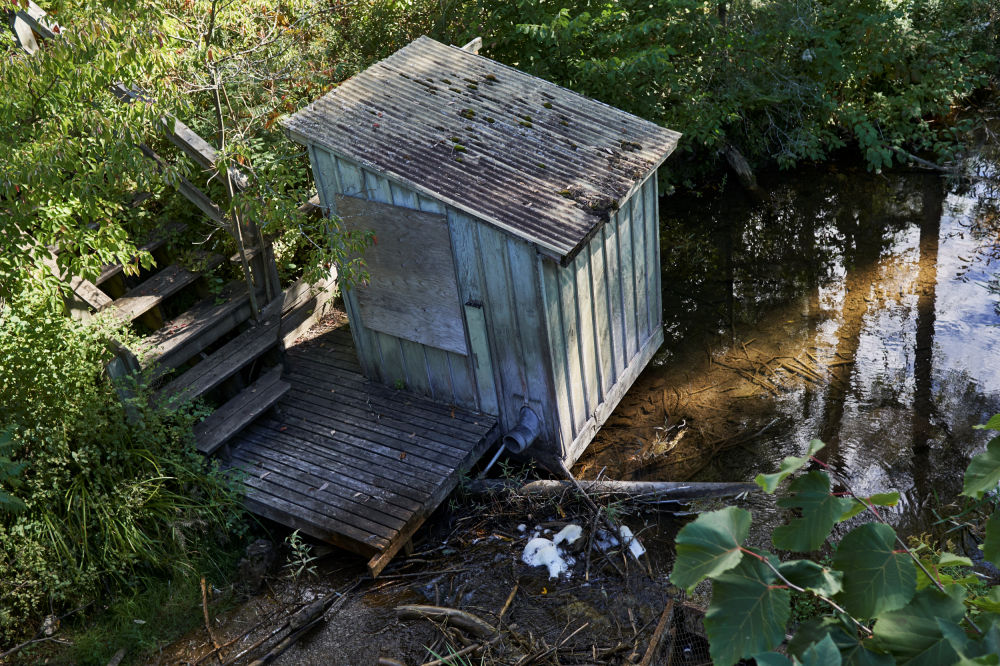 The stairs leading down to this are very nearly rotted out, so kind of a risky descent. The dam has hydro electric generators that are still operational. We could clearly hear the transformers humming in the building that houses them.
I think this is the machine shop, as they call it in the video:
I have to admit that the further we ventured into this place, the more surreal it felt. I half expected to see the Dharma logo on some of the doors.
We passed several cabin like buildings then came to what looks like the administration building and what the video refers to as the dormitories. Again, these buildings are showing signs of deterioration, but look too modern for that to be happening. Not for the first time did we wonder why this is no longer being used.
The grass at the front of the administration building looks recently trimmed in this photo: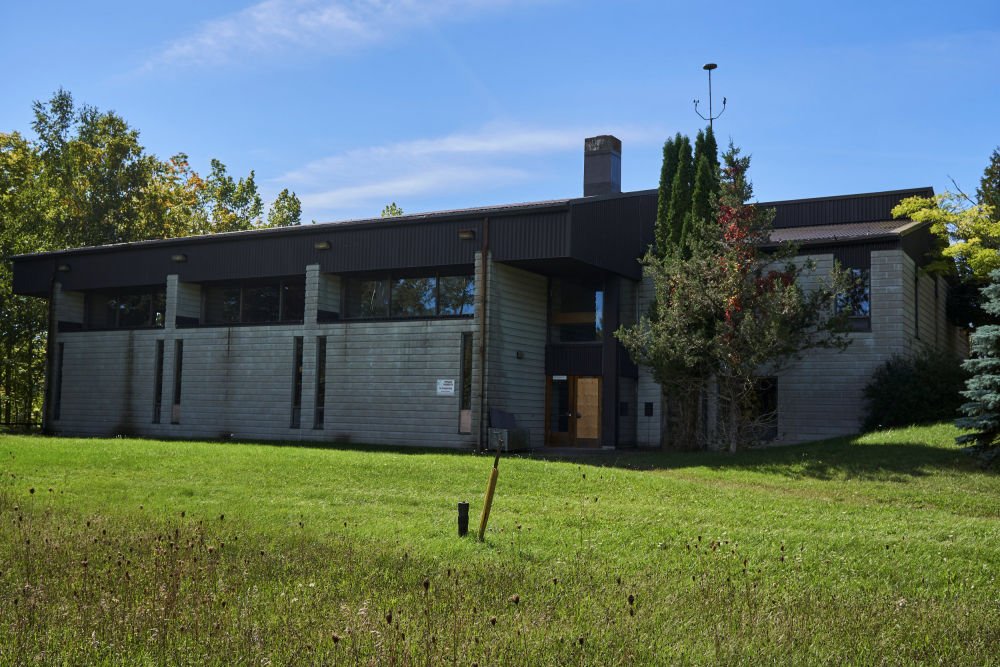 The dormitories:
Tempting to try to get inside, but we figured at this point there was a good chance that we were probably not supposed to be on the property in the first place, so decided to not press our luck.
We spent roughly an hour exploring the grounds but didn't find anything else interesting. There were more small cabins scattered around and those looked to be in about the same shape as the first one.
When I got home I did some research online and found that this used to be the Boyne River natural science school that opened in 1973. More information on this can be found here.