An Ax to Grind for Christmas by Don Heisz Workshop Projects
Don Heisz is the author of Offcuts, a weekly article on the lighter side of woodworking.
I like to get John something interesting for Christmas, since he already has pretty much everything he needs. I don't see any real reason to get him new tools, for instance, since he either has or makes everything he wants. Last year, some of you may recall, I found an old hand plane and fixed it up for him. Well, earlier this year I was in an antique store and saw an ax that I thought John might like. However, I thought it needed some attention before I wrapped it up.
As you can see here, it's a very classic-looking hatchet.
However, someone fairly recently attempted to sharpen it. As you can see from the following pictures, the metal has been freshly ground – or should I say, freshly hacked. And the newer grinder gouges are on top of much older grinder gouges. I don't actually know why some people can't seem to operate a grinder smoothly, except maybe for a lack of experience. Although, my father was not particularly good at using such tools, although experienced. In his case, it was a lack of patience. He just wanted it done. Well, in this instance, the result is actually just a mess.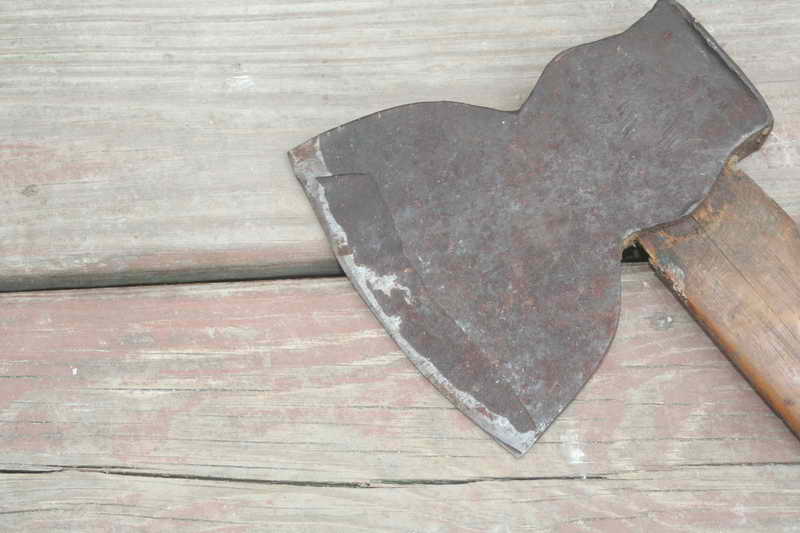 I was originally going to try to get this weird thing to grind the ax. This is most of a drill-bit sharpener that I've had lying around for a while. I have never had the other parts of it. I can't imagine the kind of destruction this would inflict on drill bits. Anyway, I would need to take this apart to set it up as a bench grinder. I have never had an actual bench grinder – I do all my grinding handheld – so, I plan on someday seeing if this can be useful. As it is now, it's a paperweight.
I sat on my steps and used my trusty cordless grinder to cut down the edge of the ax until I was satisfied that the gouges were mostly gone. It didn't take very long – I didn't even need to change the battery.
As you can see from these pictures, the ax did clean up nicely. However, I would have needed to cut far too much of the edge away in order to remove the deepest gouges. Upon closer inspection, however, I'm not certain that the deepest cuts were made by anyone trying to sharpen the blade. I think they were actually made when the piece was forged.
This ax head was hand made, it seems. There is a visible mark on one side, pressed into the steel. And, if you look at the following picture, you can see some serious asymmetry in the head itself. That's not the result of someone stepping on it, it was made that way. I, personally, don't see any advantage to having the ax head like that. I think maybe it should have been straightened. But maybe there is some obscure reason, like it's useful for left-handed people to cut out the inside of a log-canoe…
I brought the ax into my basement workshop and smoothed out the grinding on my disc sander. My disc sander, incidentally, is a wooden 9-inch circle with a self-adhesive sanding disc mounted on the faceplate of my mini lathe. I have never found much use for the mini lathe.
I decided the shiny new edge needed to match the rest of the rusty ax head. So, I wet some paper towels and wrapped it around the ax and tucked it away for a week or so. When I unwrapped it, I saw that nothing had happened. It looked just as it did when I put it in. I thought I should have maybe put some salt or something on it. Then that gave me an idea.
I happen to have a bit of copper sulfate (it's used in copper toning black and white photographs). I poured vinegar all over the shiny steel and rubbed the flake of copper sulfate on the wet metal. It immediately turned copper-coloured. It was still shiny, but it was looking better. So, I rubbed the until all the shiny steel was copper coloured – I could then practically watch while it rusted.
Here is the final result, which included a good scrubbing of the handle with steel wool. All that's left is to find some nice paper to wrap it in and present it to John. I was thinking of making a cabinet for it, actually, with a nice glass front upon which some words could be stenciled, "In Case of Homicidal Rage, Break Glass". That, perhaps, can be left for another holiday project.