Making A Rustic Wood Feature Wall General Woodworking
Now that my house has more or less moved into the interior finishing stage, I've given a lot of thought to how I want it to look. Originally, I was going to go with a more traditional style that's in line with the age of the house, but have since changed my mind on that, and will be doing something that's a lot more modern.
What I have in mind is to make each room basically the same with white walls and simple, white trim – a blank canvass, in other words – but add in special features that will give it some visual impact. That could be a large piece of art that dominates one wall, or something more permanent like an entire wall covered with wood slats.
Going back to when the house was being gutted on the inside, I saved all of the wood boards that sheathed the interior walls. Here's how it looked in the old living room (original layout):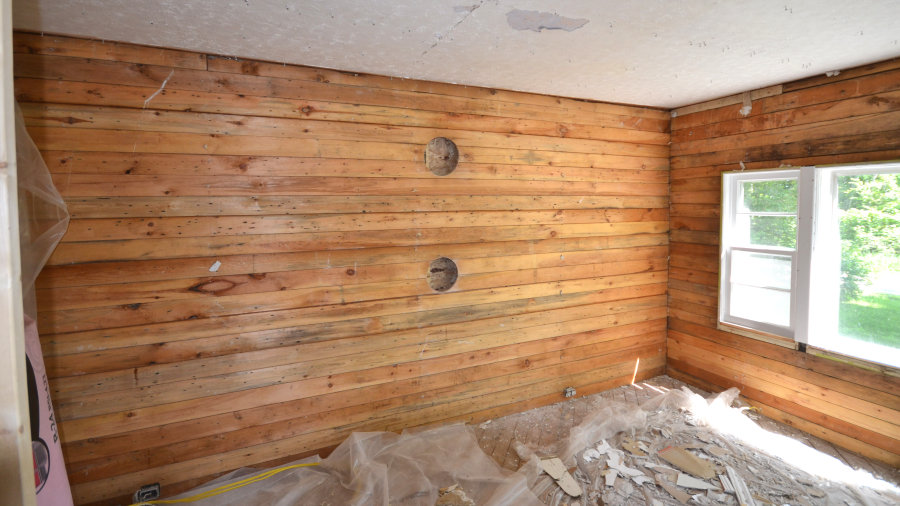 I knew that I would find a use for this vintage lumber, so I took extra time taking it off to not damage it.
I picked out more than enough to cover the wall and got it ready to mill down into narrow strips in my shop. When doing something like this, it's a good idea to cut out more than you actually need, so that you can be selective and not run out while installing it: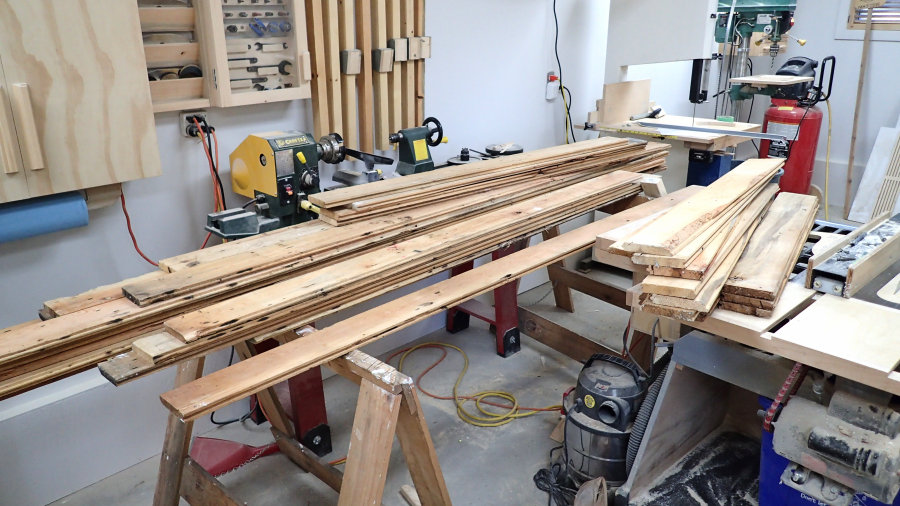 This wood is a variety of species that probably grew locally when the house was built. I did take the time to weed out the boards that were not a good match for the rest before starting. Overall, I wanted a consistent colour across the wall, so had to reject lighter types like spruce.
The upside of using free material is that you didn't have to pay for it, but it's all downhill from there ! It was a lot of cutting to get the strips down to the same size and thickness:
And dusty too, as this picture illustrates:
My advice for anyone that wants to do something like this is to do it when you can work outdoors. It will be so much more pleasant for both the milling and the finishing.
Speaking of finishing, I brought all of the strips inside the house where there is more space. And unlike my shop, it's also warm enough for the finish to dry. The first coat was a stain mixed with polyurethane that I brushed on. The colour was picked to give the strips an aged look, like the colour pine will go naturally over time:
It also evens out the shade variations between the strips, giving me that more consistent colour across the wall. Leaving them unstained would be another, more dramatic look that I think would overpower a smaller space.
While the strips dried, I got to work on the wall. I figured the strips would look best if they were in front of a bark wall, so I had some flat black paint mixed up:
I'll say that it was a bit unnerving to do do this, since it's like the point of no return. It's also remarkable how much darker the room seemed with just one wall paint black.
After the second coat was dry, I installed the support cleats using just construction adhesive and a few 2″ brads to hold them in place while the glue set:
Meanwhile, with that first coat of stain / urethane dry on the strips, I lightly sanded them for the next coat. For the finish coats, I switched to clear satin polyurethane, and that dries a lot faster and also doesn't stink up the house with fumes:
Bit of a problem to find places to put so many strips while they dry. It always seems like more than can possibly fit on the wall when you need space to finish them:
Finally, it's time to install the strips I started 2″ from the sub floor which leaves enough space for the finished floor plus room under the bottom strip for cords and cables to come out:
I mounted this first strip by measuring off the floor, them checking the space up to the top. When installing this type of thing, you really need to make it in line with what it's close to – the floor at the bottom and the ceiling at the top. Using a level is the wrong approach, since the strips will look best if they match their surroundings. Within reason, of course – if your floor or ceiling slopes a lot, I would recommend going with a different arrangement instead of horizontal strips.
I spaced the strips 1/4″ apart using blocks of wood cut to that thickness. The shorter boards were cut to land on the centre of the support strips:
There are two outlets in the wall to deal with, and I just made neat holes through the slats for them, rather than messing around extending the boxes out:
I did have to add extra support beside the outlets to catch the ends of the shorter slats.
I left a space big enough for the TV I have, figuring it would look best if it's in tighter to the wall:
This can be a challenge as well, if your walls are not parallel. Luckily, mine were and I checked all of that before getting started.
At this point, the project stalled as I waited for the LED's and power supply for the accent light strip I wanted to add at the top. Even though I had those fairly quickly, I did not get back to the project since I had already moved on to other, more pressing ones. Like the infloor heating and the plywood flooring on top of that:
It was 19 months in fact before I got back around to finish the slats and install the LED strip:
And get the TV mounted:
I will admit that I had reservations about doing this in the beginning, not knowing exactly what it would look like or if I would like it. But living with it for more than a year has proven it out, and I think I like it even more now than I did when I started it.
I made a detailed video going through the installation and finishing process: