How to Make Stackable Storage Trays Workshop Projects
I'm currently doing a major renovation on my house and, as usual, I'm doing most of the work myself. Managing all of the various bits, pieces, parts, fittings and a multitude of fasteners can be a little overwhelming, so I figured I would do something about that.
When I got around to making these trays, I had literally dozens of bags, boxes and piles of assorted "stuff" all over the place. It was getting so that it would take longer to find the fitting (or connector, or screws, etc.), than to do the job I needed it for.
I've made several of these over the years to use for my day job, and they have proven themselves to be a very practical and cost effective way to keep my most commonly used fasteners on hand.
The design is fairly simple and easy to construct. All of the parts are made from 1/2″ plywood, and features simple joinery that is just glued and nailed. The result is a tray that is very durable, as years of use in rough environments have proven.
I figured I needed at least three trays, and happened to have a 16″ x 96″ piece of 1/2″ good one side plywood to build them from:
I got several of these from a job site, where they were on their way to the dumpster. It's staggering just how much good quality, usable material is thrown away on building sites each day.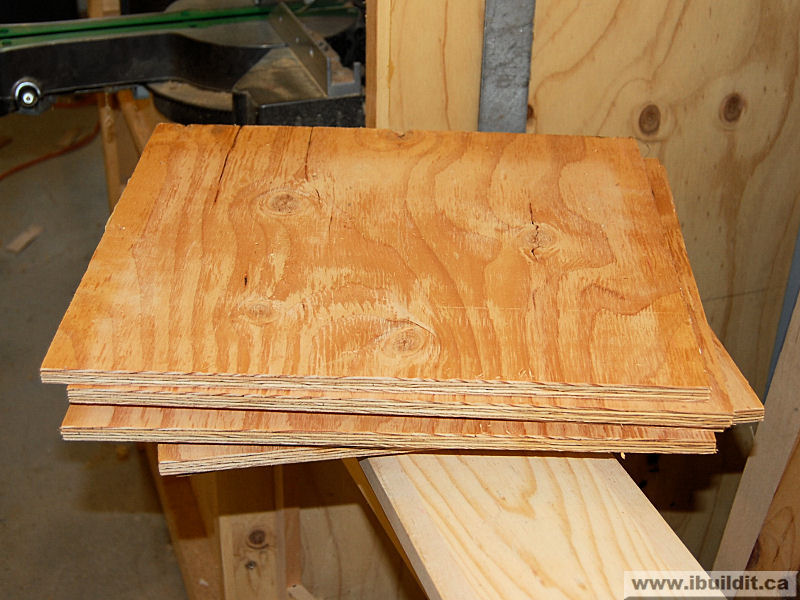 Using the miter saw, I cut the plywood into pieces a little longer than the final length. My saw has a maximum crosscut capacity of 12″ at 90 degrees, so I had to flip the plywood to finish each cut.
Nice to have a radial arm saw for a wider cut, and I'm thinking about one as a future project.
To layout the curve on the handles, I'm using my drawing bow: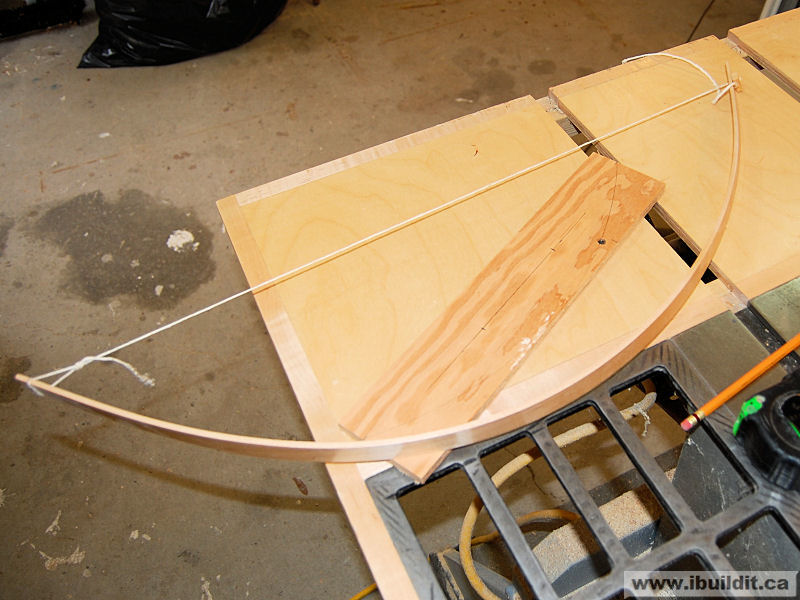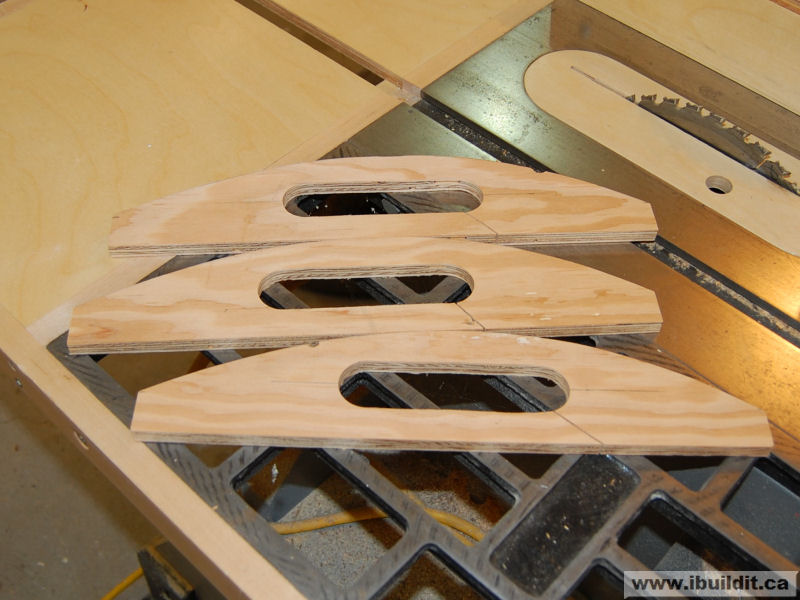 All three handles cut out and ready.
All of the parts cut to size, but there are two more machining operations to be done: The sides need a rabbet to receive the bottom, and five 1/4″ wide dados for the dividers: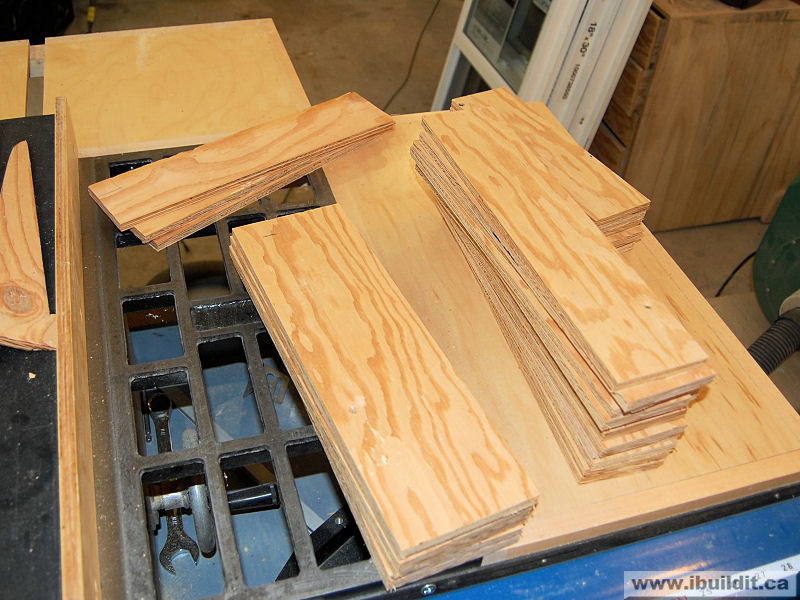 The videos at the bottom of the page go into a lot more detail on cutting out the parts.
Time for assembly. I'm using regular carpenters glue and 1-1/4″ nails to put these together:
Using an exterior type of wood glue is recommended if these will be used in damp or wet locations.
Finished:
The dividers are cut from 1/4″ plywood and are put in without glue. They can be moved around to customize the size of each bin.
I also thought it would be interesting to use the toner transfer method to label the trays. When they are stacked up, it's easy to see when each one is.
The finishing touch was a single coat of oil based polyurethane
to seal the wood and keep it clean.
To reinforce the butt joined corners, I've developed a special jig that is used with a router to make a dovetail cutout in the box. The jig is then used to cut a "plug" from another piece of wood that fits in the recess, and is glued in solidly. For these, I used black walnut for a contrasting colour:
Neat looking and very functional, as well. These will really increase the strength of the joints.
I made two videos of the project. The first covers details on building the trays complete:
The second goes over how I reinforced the corners:
I will show how I made this jig, and provide a template to accurately cut it out in an upcoming website article.
I have the trays filled and ready to use. When the house renovations are finally completed, they will probably find their way into the workshop, where they will be used for many years to come.