How To Make A Box With Butterfly Lids General Woodworking
Or, that's what I'm calling this, since the lid is in two parts and opens in the middle. Maybe there's a proper name for it, but nothing that I could find.
Anyway, I made this one to put my camera gear in for an upcoming road trip, but it can be used for a lot of other things. Like tools. Or tackle. Or sewing stuff. And it can be made any size and even stood on end to use as a wall mounted tool box.
The interesting feature of this box is how it latches – it uses an all wood catch on both ends to hold it securely closed for carrying.
To keep the weight down, I made the bulk of the box from 1/4″ plywood. Since this material is thin, I figured box joints would be the strongest way to joint the corners:
I cut these using my advanced box joint jig using a single blade to make the 1/8″ joints.
The top and bottom of the box were just glued in and I used pin nails to hold them while the glue set. I used a 100 grit disk in my random orbit sander to clean up and make the corners flush, then switched to 220 for a final sanding. I filled the gaps and holes before sanding it again, then I brushed on three coats of water based polyurethane:
I like to use polyurethane construction adhesive to glue long box joints like this. It takes a long time to set up, giving me plenty of time for assembly. It also lubricates while putting it together, and you end up with nice, tight joints like this:
Next, I cut the lid off of the box and then cut that in half. I'm using piano hinges for both lids and it's a good idea to shim the lid up slightly (I'm using a piece of cardboard) and that small amount of clearance will make it work better without binding:
I added a strip to one half of the lid using just glue to hold it. The other lid will close down over the strip and hold that lid closed. The latch mechanism uses a wooden spring that is glued to the inside of the second lid. This will have to flex quite a lot, so I added a block to the bottom to reinforce it:
The holes are drilled in the side and filed to make the button latch work smoothly. The buttons are glued onto the wooden spring on each end and left to dry: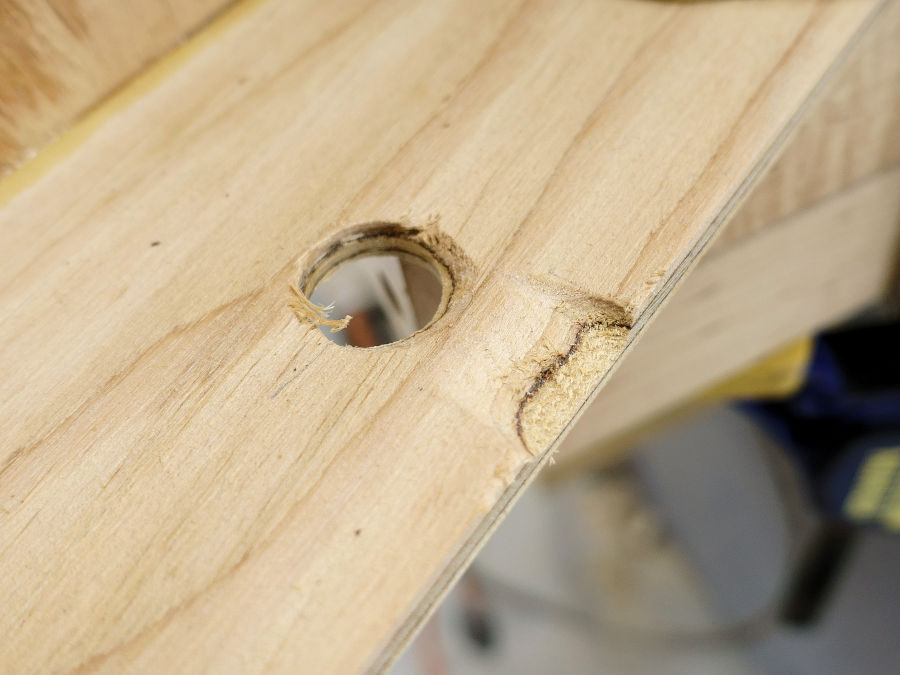 One thing I would change if I did this again is the size of the button hole. I'd make it a bit larger, 3/4″ instead of 5/8″ would be easier to push in.
The carrying handle is cut down the middle and glued and screwed to each half of the lid:
I used fast setting epoxy to glue the handle on, then drove screws in after that set.
I lined the box with this black packing foam that I cut into strips (see video below), then added dividers for the camera and lenses. This keeps the gear neat and secure while travelling.
This video covers the box build from beginning to end:
Here's a quick video showing how I cut the black foam into strips to line the box: