Making A 12 Inch Disk Sander Homemade Machines & Jigs
A trip to Princess Auto had me leaving with 2 treadmill motors in hand. Both identical, 1hp open frame motors, they were very reasonably priced. I'm always on the lookout for electric motors and these looked like they could be useful. I'd been meaning to build a disk sander so I used the first one for that:
Many of the construction details are covered in a YouTube video I did:
The sander is designed around the motor. The motor, being open frame and roughly square, was easily mounted in a wooden frame. Much of the frame is made from 3/4″ cabinet grade plywood, with some parts (feet in particular) made from solid maple. The idea is to rigidly hold the motor in place, to dampen vibration, while still leaving openings for ventilation:
The platter, where the actual sanding disk would be, is made from 5/8″ thick melamine. The advantages of using this material is that it is very flat and stable and has a very durable finish on it. The core of this is particle board and to prevent moisture absorption through the edge grain, I sealed it with a thick coat of clear silicone caulking.
The guard is made from segments of solid spruce, cut on an angle to form the semi-circle. Mainly this guard keeps dust from being circulated upwards by the spinning disk, instead channelling airflow down, toward the dust collection.
The table tilts a full 45 degrees and this is accomplished with plywood trunnions:
These were carefully laid out to have the tables tilt axis at the face of the disk, therefore no gap develops as the table is tilted. Two hand screws on the sides clamp the table at the desired angle.
Finally, a dust cover was made for the motor housing: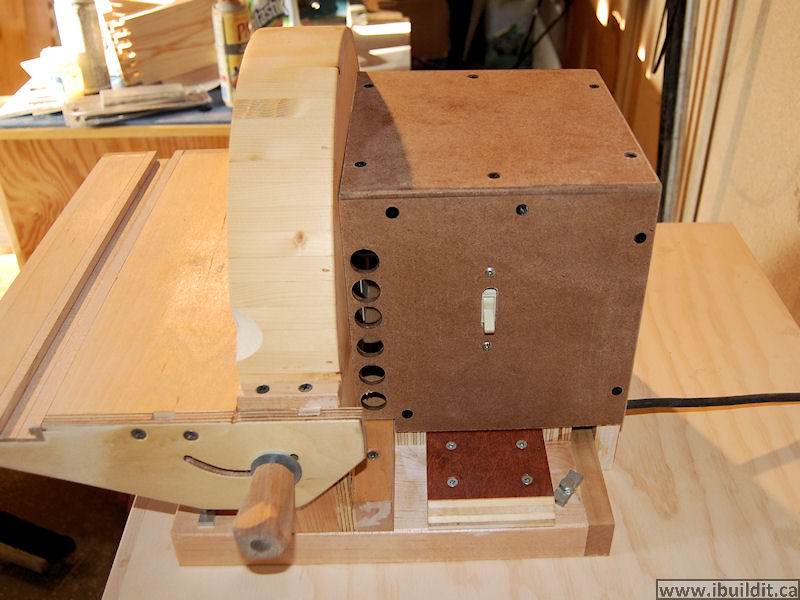 Holes in the cover provide ventilation for the motor. A light switch is mounted in the cover to turn the sander off and on.
The table was slotted for the mitre gauge and it was bolted (temporarily) to a bench.
Later, a sanding station cabinet was made to permanently mount this sander. Details here: Sanding Station
February 2014 Update:
I made another video having a closer look at the disk sander: