A Flip Stand For A Bench Grinder And Outfeed Support Workshop Projects
This project is a good solution for those of us that have a fairly small shop, as it serves two totally unrelated purposes in a small footprint. Its primary function is as a stand for a bench grinder I had recently bought. I was having some difficult deciding where to set it up, since it is not something that I will use every day. After looking around the shop for a suitable location, I figured it would be great if it could be incorporated into an outfeed support stand for the table saw. I occasionally cut longer stock on the table saw and it would be handy to have a reliable outfeed support in place. When I need to grind something, I can just flip it over and plug it into an extension cord that comes down from the ceiling.
The bulk of the build is shown in this short video:
The stand has several neat features, including this tool rest custom made for the grinder:
It is mounted on the stand and is adjustable through a wide range:
To level the stand, simple adjustable feet are mounted on the bottom. Here I'm getting ready to cut a semi-circle that I laid out with my curve drawing bow:
Since this stand will be in one location perminantly, I used regular nuts to lock the adustable feet in place after it was leveled. Wing knobs could also be used:
The tool rest is fastened to the stand with four 1-1/2″; wood screws. It's very stable (unlike the one that came with the grinder) and fits neatly around the guard. It can be quickly removed to change the stone by taking out the screws: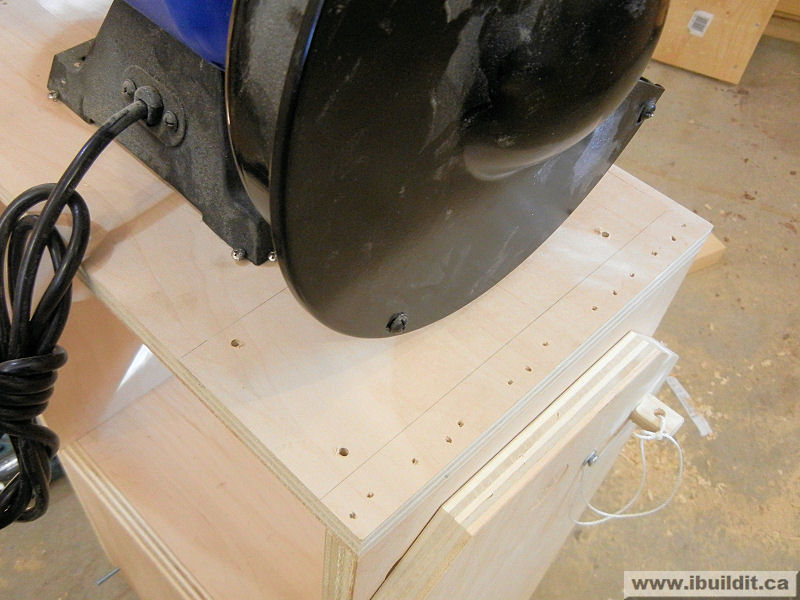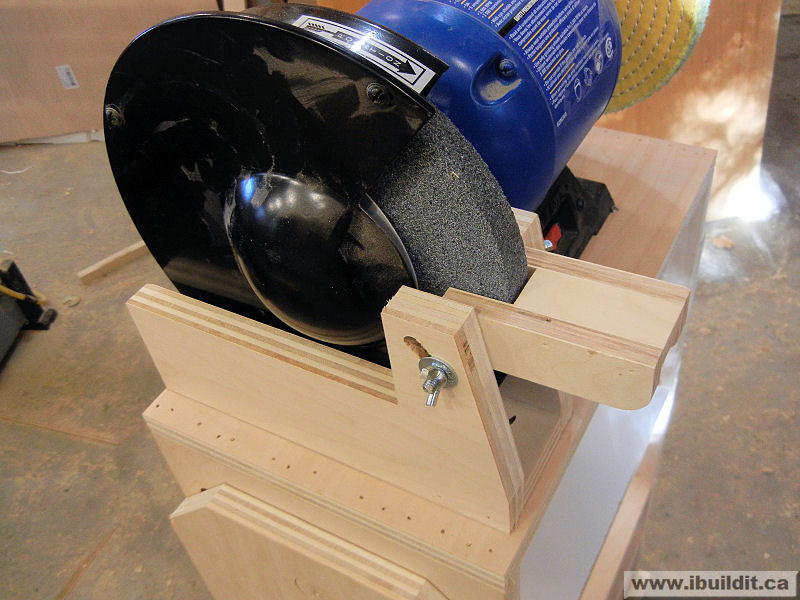 To help keep the grinder from shifting, I drove small screws around the base:
The bottom of the stand has four pull out bins for storage, and I made this from 1/2″; spruce plywood. All of the parts cut out and ready to assemble: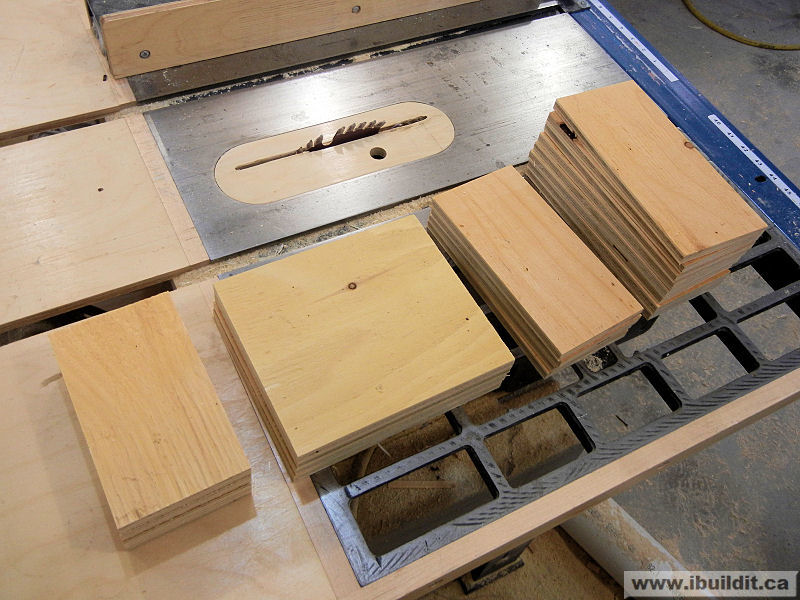 Nothing fansy, just wood glue and brad nails to hold the butt joints together: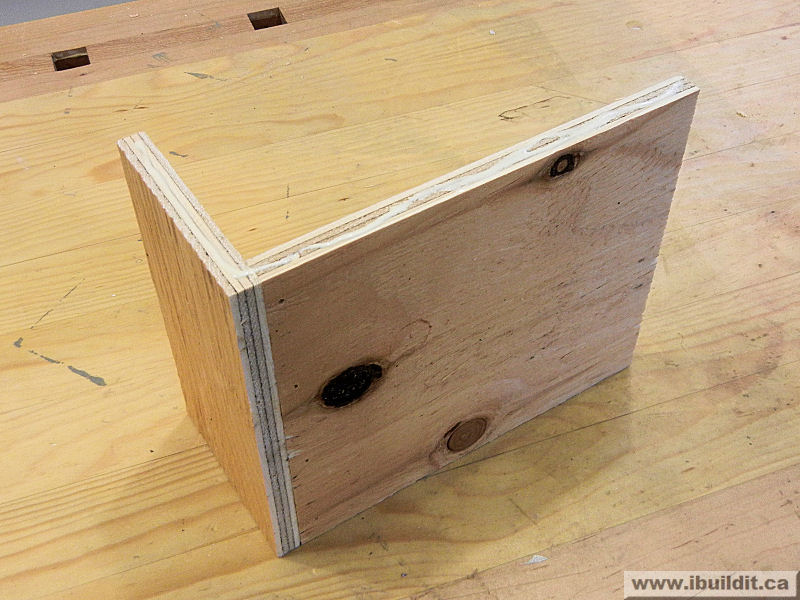 To mark the recess for the pull, I just used what was close to the right diameter to draw the curve: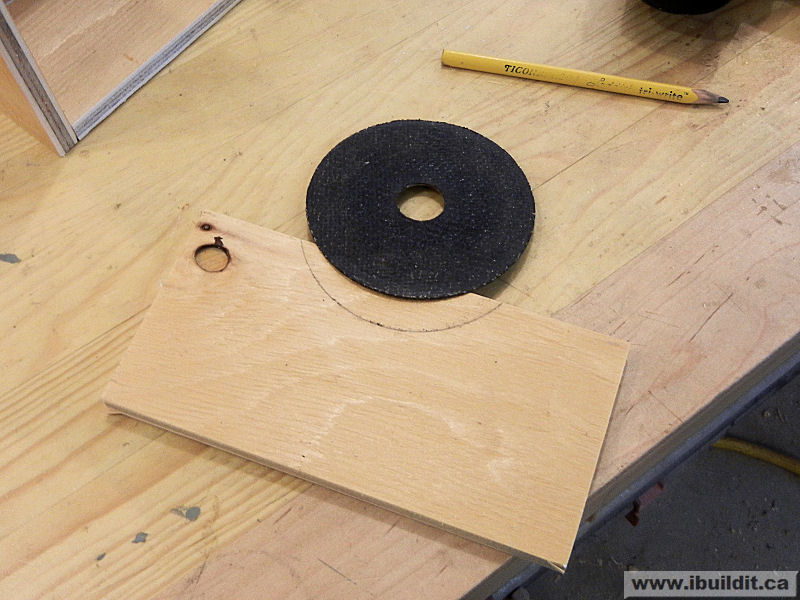 Fully assembled, sanded and ready to use: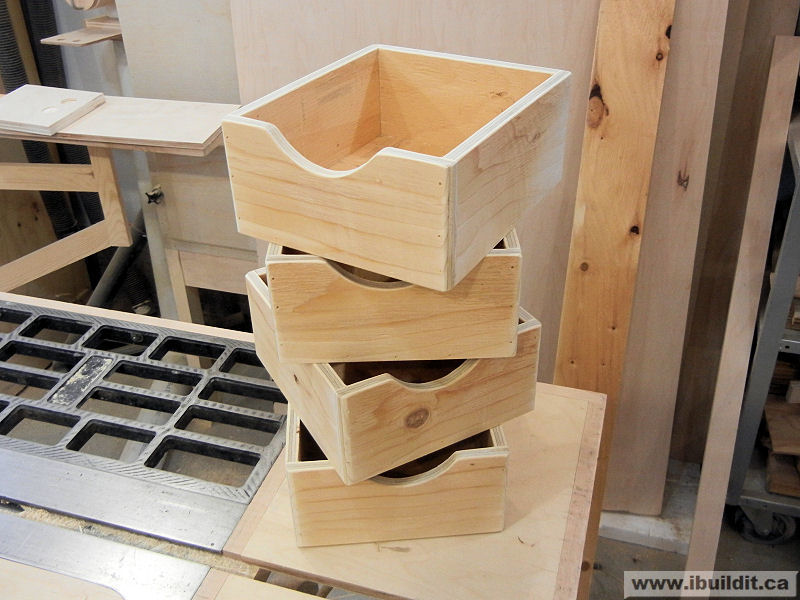 These bins will hold seldom used items and along with storage, provide ballast for the stand.
Here it is with the outfeed support up: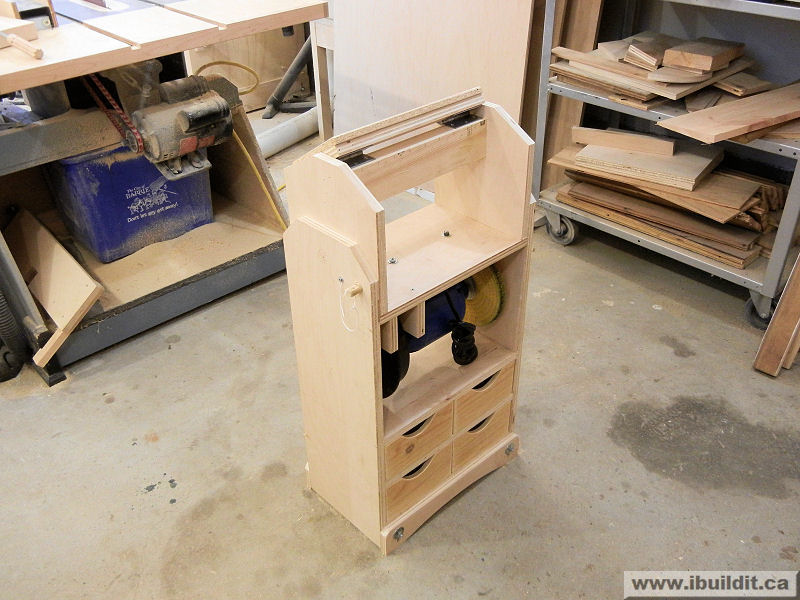 And with the grinder up: