Making A Draw Knife From An Old Diamond Blade Homemade Woodworking Tools
I've never owned one and figured I really didn't need one, but when thinking back there are many times I could have used a draw knife. Situations where I used a block plane, electric plane or belt sander to whittle down or roughly shape a piece could have gone much faster with this tool.
I've been asked a few times if I could build one and this project has been on my list for quite a while, so figured now that the warm weather is here again, I'd take it outdoors and get this one done.
The first thing I did was some research online to look at various designs for draw knives, to get an idea of how to make mine. Of the ones I looked at, I liked having the handles splay off on an angle, figuring this will keep my hands at the most natural position. Makes sense that if you will be using this for an extended session, it should be as comfortable as possible.
I marked out the basic shape onto the blade body, fitting it in as best I could. This is a 12″ masonry diamond tipped blade that I got from a job site a few years ago:
These blades wear out and get thrown away on a regularly on construction site. My regret was not getting one of the bigger ones (maybe 20″ diameter) they use on block saws.
After cutting it out, I marked and rough ground the bevel for the cutting edge. I could then bring it into my shop and clean up the bevel on my 2 x 72 belt grinder: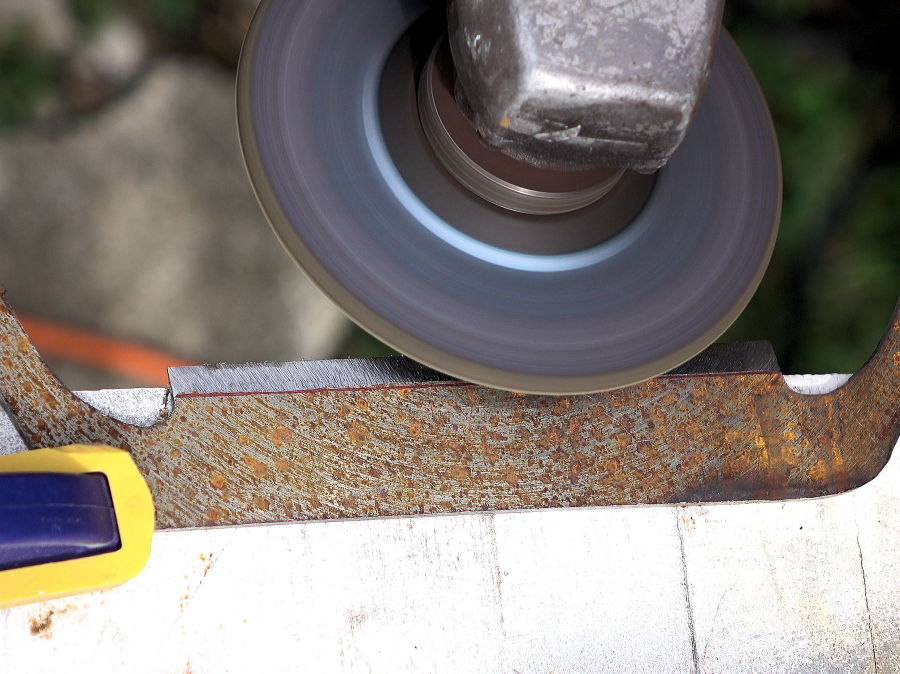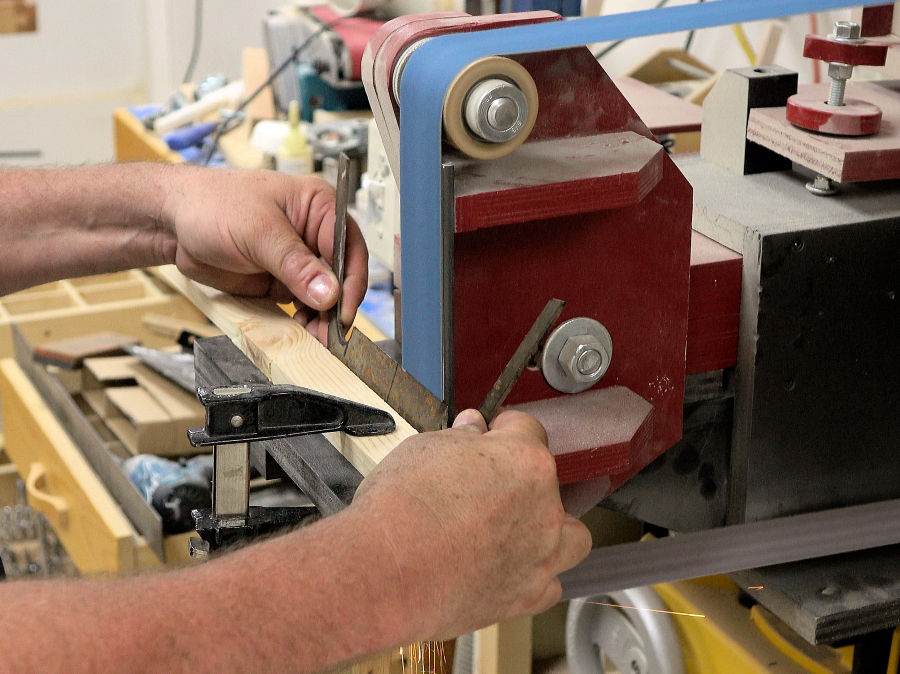 To guide the blade at the right angle, I just clamped a block of wood to the tool rest:
This really does a great job of grinding the bevel perfectly flat across.
I gave a lot of thought to how I would keep the handles on, but settled on a very simple solution that starts by cutting part of the way into the tang to create two tabs: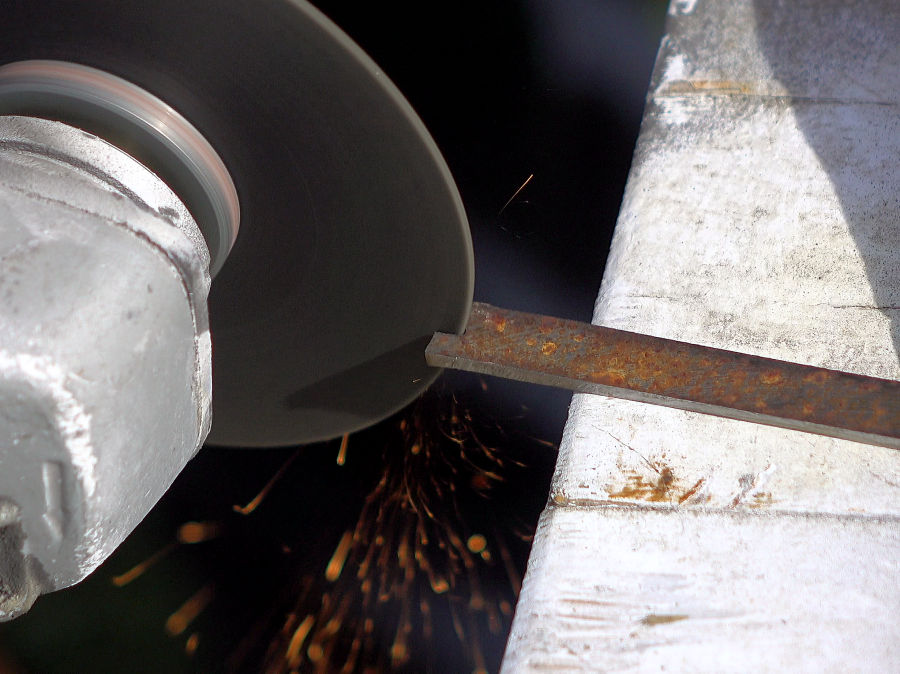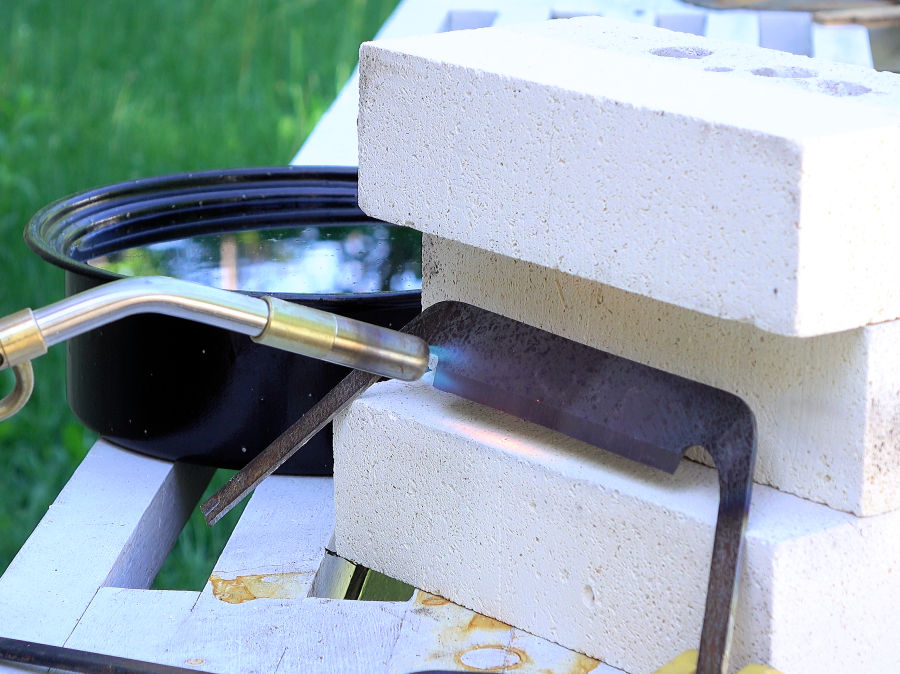 More for show in the video, I heat treated the blade. The steel the blade is made from is already hardened and tempered to a degree that is suitable for holding an edge, so I really didn't need to do this.
When working with steel that's already hardened, you just need to be careful to not overheat and it will retain that hardness.
I didn't go overboard with the polishing, just cleaning off the surface rust and scale from heating the blade. I prefer if a tool looks like it's been used and is ready to use, not in showroom condition:
To attach the handles to the blade, I cut slots on the table saw the same thickness as the tang. After the tang is glued in, I can fill the rest of the slot. Another way is to drill the slot through each handle, but that can take longer and end up being less neat. The open slot also makes it easier to get the tang fully glued in.
With the slot cut, it made mounting it on the lathe a little more difficult. After the blank was on, I divided it in two handles and quickly turned those. Nothing fancy, just a basic shape that's fatter on the end:
Now for those tabs on the ends of the tangs. I heated them and bent them over in opposite directions, then heated it again and burned it into the end of the handle:
This sets the metal down flush with the end and also looks pretty neat:
Epoxy is used to glue the tang in and also a thin filler to close the slot:
The excess wood is trimmed off after the epoxy has cured:
Originally, I was going to use a short piece of copper pipe for the ferrule, but thought I would try out an idea for using copper wire instead. It was tricky to wrap it in tight and even enough with the handle already installed, so if I did it again I'd change that.
After some adjustments it looked good and to fix it in place I swabbed on a thick coat of epoxy:
To bring out the colour and grain of the wood, and to give it some protection, I rubbed on two coats of linseed oil. After it had dried, I tried out the knife for the first time:
It works well and feels very natural to use. At this point I hadn't even fully sharpened the blade, but it was cutting without any problems.
The finished knife: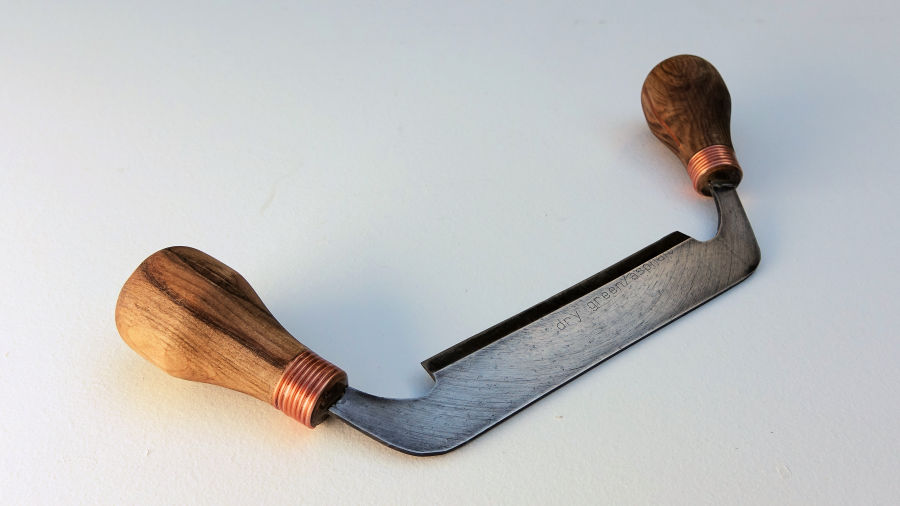 Here's a detailed video of the build: