Making a Wooden Contour Gauge Homemade Woodworking Tools
A contour gauge is used to quickly measure and duplicate uneven surfaces. To scribe a part to fit in tight to an irregular shape, a contour gauge can be used to record it, then transfer the profile to the part directly, or to a paper template. It sounds more complex than it actually is.
Doing this project was a bit of a whim, since it would be much easier just to buy one. They are fairly common and not too expensive. In fact, I had one for many years that I bought when I started my carpentry apprenticeship. Chalk that up to inexperience and an impulse buy, since I really didn't have much use for it at that time.
Twenty eight years later and that profile gauge is long gone, probably lost in one of a dozen (or so) moves.
In any case, it's a tool that won't get much use, but when you need it, you'll be glad you have it.
To get started I selected two pieces of maple from my wood rack that are about 12″ long, 1-1/2″ wide and about 5/8″ thick:
I then sanded these so that they are slightly convex, and when held together on one end, they are open on the other. The purpose for this shape is to apply even pressure across the fingers when the ends are clamped.
As I found out after I had the tool finished, this curve on the parts was probably not enough, since I had difficulty getting the fingers tight in the middle. This has a lot to do with how wide the gauge is, and one that is a bit narrower should be less trouble to adjust.
To clamp the ends, I used two #10 x 2″ machine screws. I ground the sides of the head flat to prevent them from turning after driving them into the wood: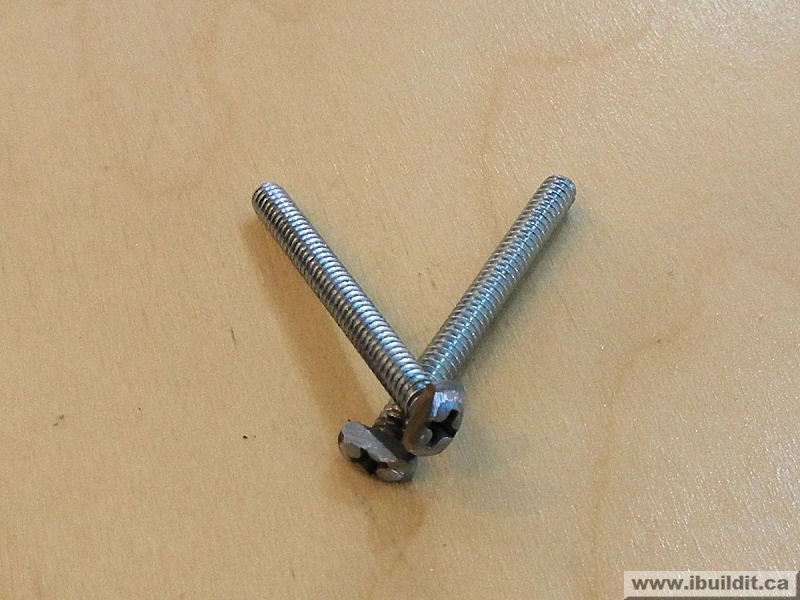 What it lacks in grace it makes up for in efficiency.
I need to cut a bunch of thin strips for the fingers, and I have set up my featherboard as a thin rip guide on my table saw: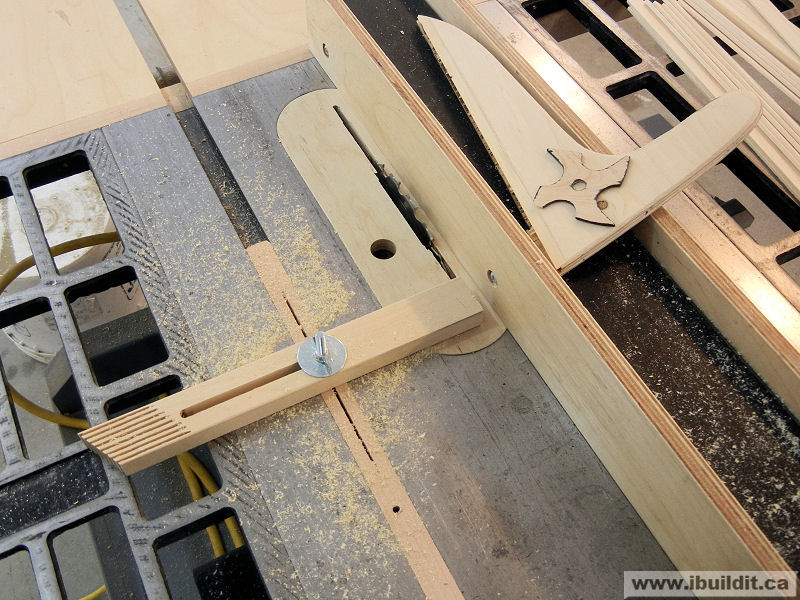 I made sure that I cut more than enough. These are roughly 1/8″ thick and 1/2″ wide. I cut them to about 5″ long. Again, these dimensions are not really important, but I don't think making the strips thinner would be a good idea.
I added blocks to the ends with a hole for the screws, then threaded nuts on to hold it together. Then it was just a matter of squeezing in as many fingers as I could: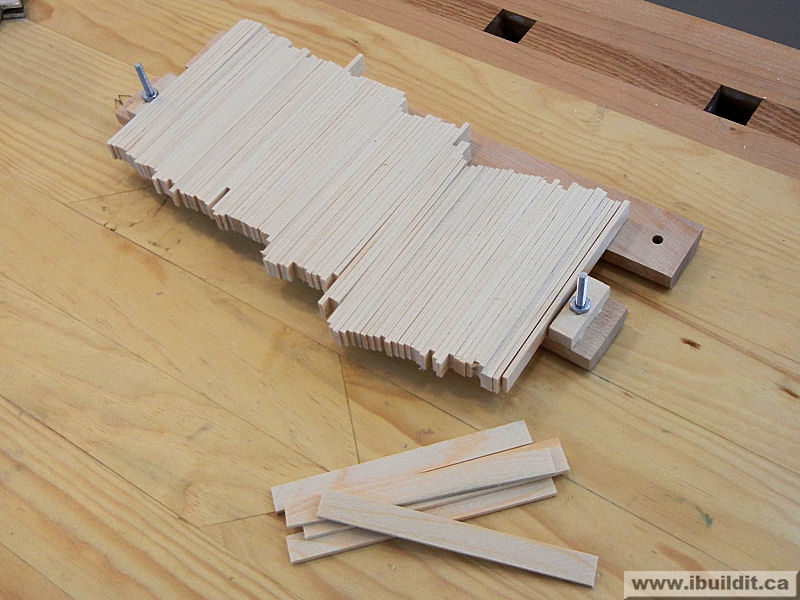 The outside strip is put on with washers and wing nuts.
After it was assembled I found the the fingers in the middle were a bit too loose, so I took the outside strip off and sanded it more convex. This improved the 'grip', but what really did the trick was sanding the edges of the fingers to make them flush with each other and very smooth. I did this by extending them out all the way on one side, then sanding with my sanding block. How I did this is easier to see in the video at the bottom of the page.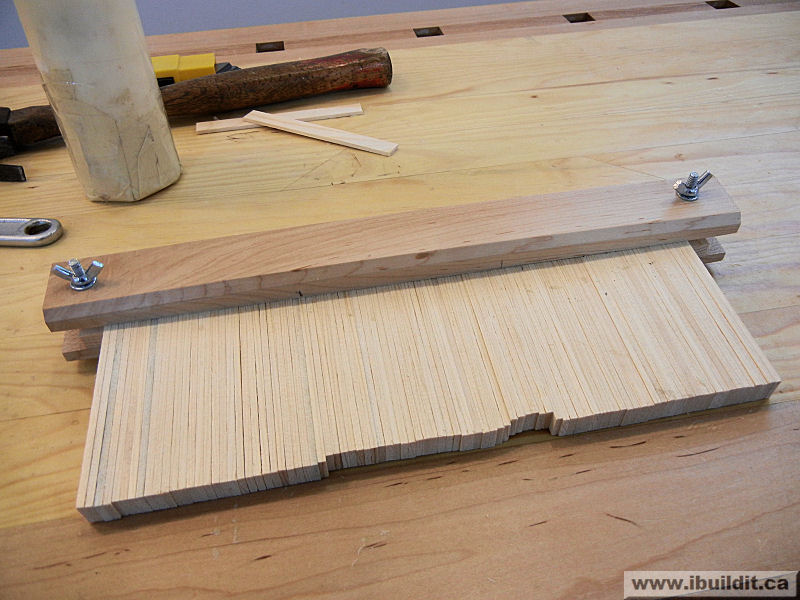 Here's an example of how it works: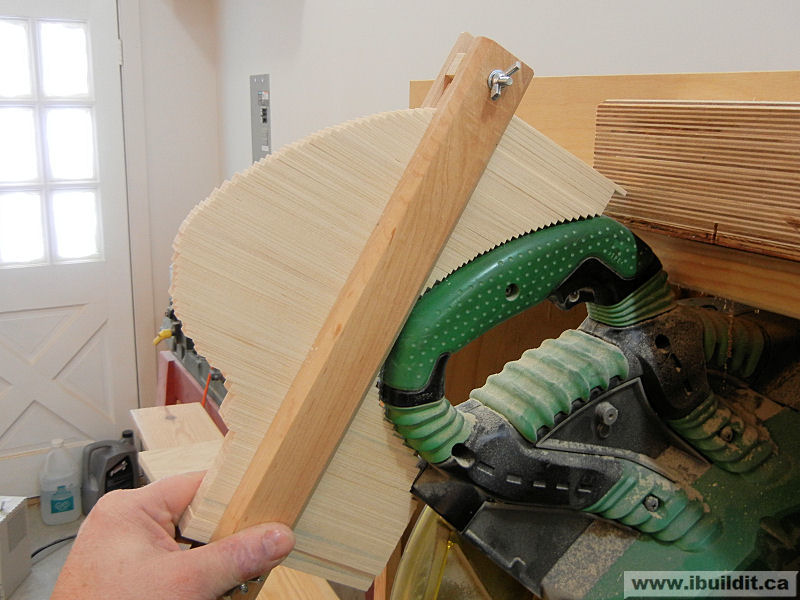 Kind of an interesting project and I end up with a useful tool. It's also a lesson on trying to apply consistent pressure between two points, and how to reach the ideal curvature to accomplish that (I never did, not really).
There are wooden bow clamps on the market that would work in the same way, and the manufacturer of those must have done some extensive testing to arrive at the design that performs well. These are the kind of details we normally take for granted or are totally unaware of until we try to do something like this.
I made a video building this contour gauge in detail: