Tip: Flatten And True Stock Without A Jointer
I don't own a jointer, and that is for practical reasons: I generally don't work with solid wood enough to warrant the expenditure, and I can't spare the space in my small shop for one that is big enough to be worth having. When I've needed to, I've been able to use other methods to flatten and true a board. The method shown here works best for shorter pieces, but the same basic procedure would work for longer ones as well. This example uses pine, a softwood, but it also applies to hardwood.
Even though I don't have a jointer, I do have a thickness planer. In my opinion, a thickness planer is very nearly a 'must have' tool for any reasonably serious woodworker to have and I view it as more versatile than a jointer.
Here, I'm working with a piece of pine framing lumber, 1-1/2″ thick, 5-1/2″ wide and about 30″ long that has been drying for several months.
When this lumber is bought at the lumber store, it is likely to be kiln dried or air dried to about 12% to 16% moisture content, and before it can be used for any kind of 'finished' woodworking project (other than framing a shed), it needs to dry out some more. Softwood should be in the 8% to 10% range before it's used, and that's where having a moisture meter to check it is a good idea. In losing that extra moisture, the wood can twist, bow and cup to the point where it does not have a straight and flat surface.
It's fairly obvious the twist in the board when you sight along it like this:
I use the side table of the table saw to check the piece for flatness, and use a plane to take off material from opposing corners. I'm working on one side only, and usually if the board is also cupped, I'm on the concave side. For softwood like this, I use a block plane, but for hardwood, I would use an electric planer: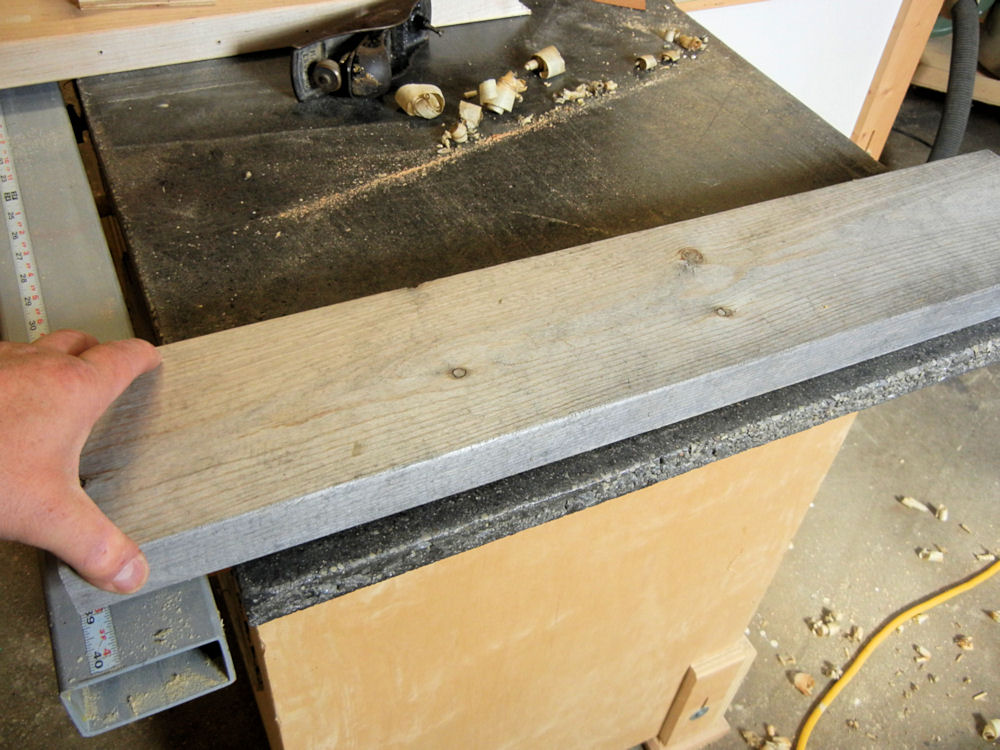 The piece is checked, planed and checked again until it lays evenly on the surface of the table saw. This process actually takes less time and effort than you would expect, but it does create a lot of shavings!
Eventually, it'll get to this point:
It is then sent through the thickness planer with the flattened side down. Several passes may be required to mill the top down. When the top is done, the board is flipped and the bottom is planed smooth to remove the marks from hand planing: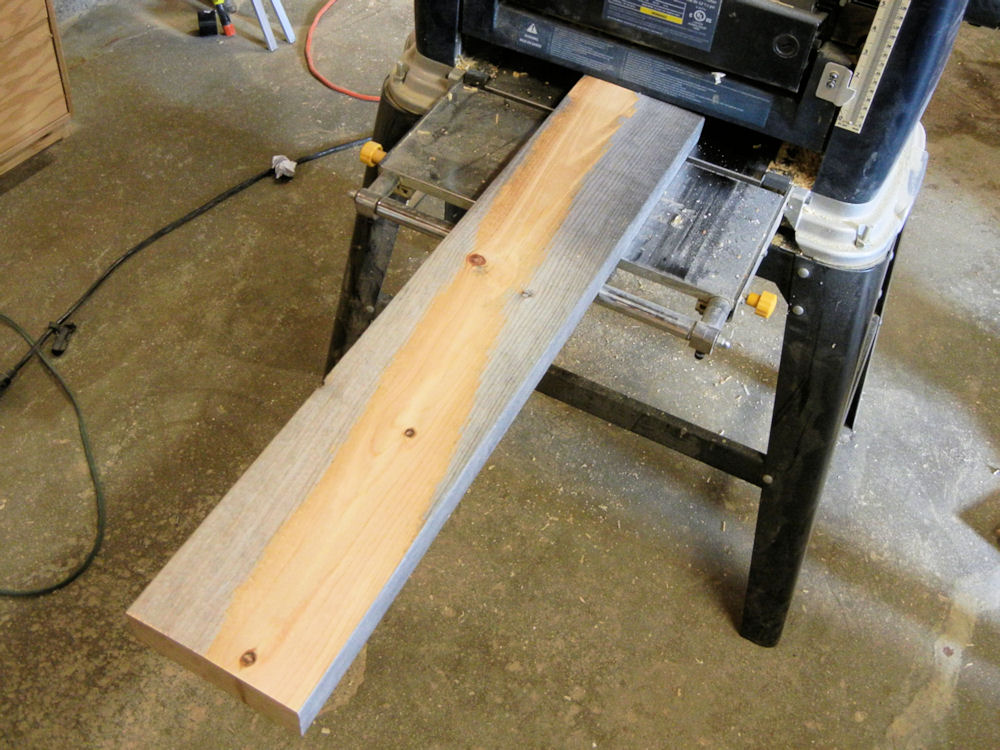 To straighten the edge, I use my tapering jig to hold the stock:
The newly cut edge is then put against the fence and the other edge is trued.
In this video, I show how I mill rough lumber down to a usable dimension that is flat and square with just the table saw: